WCMC maintains "Weill Cornell Alert" to provide emergency information and instructions. Weill Cornell Alert can send simultaneous notifications to all students, faculty, and staff or select groups via:
Cell Phone (voice and text messaging)

Home Phone

Work Phone(s)
Alternate Phone
Home and Work Email

Pager

Fax
To learn more about updating your contact information, go to the Updating Weill Cornell Alert page.
Adding/Removing "Weill Cornell Alert" Users
Students, faculty, and staff are automatically added and removed from Weill Cornell Alert. Changes to individual contact information should be made by the individual or department administrator using the WCMC Online Directory.
Who is Everbridge?
You may notice some of the email links go to everbridge.net or everbridge.com. Everbridge is the provider Weill Cornell uses to send Weill Cornell Alerts.
Emails from Weill Cornell Alert
Emails sent via Weill Cornell Alert have a distinct look. See below for a sample email.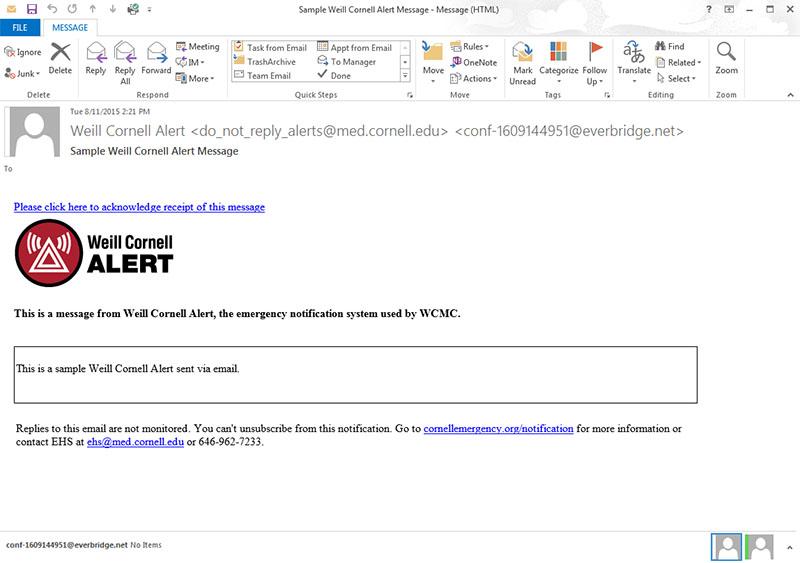 How often will I be contacted using Weill Cornell Alert?
Weill Cornell Alert is tested 4 times a year at 10am on a Tuesday. Other than the quarterly test, you will only be contacted by the WCMC Emergency Operations Team using this system during an emergency impacting WCMC. An example was Hurricane Sandy when all students, faculty, and staff needed to be updated about the impact of Hurricane Sandy on WCMC.
Questions?
Contact EHS at 646-962-7233 or alerts@med.cornell.edu.