Introduction
Weill Cornell Alert, the WCMC emergency notification system, is updated by the WCMC Online Directory. Visit the Online Directory, log into the system using your CWID and password (login link on the top right-hand corner), and you will then be directed to update your profile. Enter or update your cell and home phone so that you will be alerted if the event is off hours.
Which fields are uploaded into Weill Cornell Alert?
Cell Phone
Home Phone
Work Phone
Alternate Phone
Pager
Fax
Home Email
How do I set my contact information to be invisible?
If you want to enter some after-hours contact information for Weill Cornell Alert, but don't want it to be visible to others searching the online directory, select "Emergency Only" in the "Publish To" column (see screenshot below).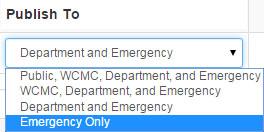 Weill Cornell Alert Bulletin
Questions?
Contact EHS at 646-962-7233 or alerts@med.cornell.edu